Panel Discussion – What does the New Normal look like?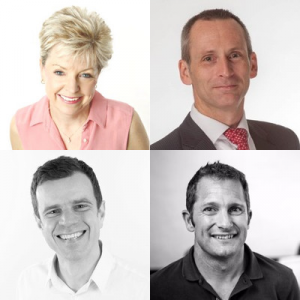 Event Details:
When: Please complete the form below to reserve a space on a Webinar
Session Time: Friday 26th March 2021 at 2 p.m.
Where: Microsoft Teams - login details when registered
Speakers: Jacqui Mann (Culture and HR Specialist), Kevin Stansfield (Business Bounce Back and Growth Expert), Richard Clarke (Owner of Secret Source), and Chris Ward (Owner at Vermont Systems).
Panel Discussion - What does the New Normal Look Like?
After a year of much disruption around our business and personal lives, there is light at the end of the tunnel. May and June 2021 should see a big return to normality for most of us. The question is though, what does that look like from a business perspective? Maybe the last year has been a challenge for some of you, and conversely, it's been super formative for others. Your business has either suffered, or risen to the challenge and flourished.
With the biggest 'business continuity test' in the history of the UK nearing to end, the experience gained in Working From Home / Remotely must have given you plenty to think about when it comes to shaping the future of your business. I know we've had a lot of discussion internally about whether we continue to work remotely and move out of our office. But we have questions about maintaining morale, culture and training of new staff.
It seems though, at this juncture, we are at a point where we could make some great decisions to change things up, flip life on its head and really make a positive change for our business. As we have so many unanswered questions, though, we put our thinking caps on and came up with the idea of running an interactive panel discussion with some business leaders and experts we know.
And as we think there is benefit in sharing the wisdom with other like-minded business owners and leaders, we want to invite you to this interactive, and exciting, panel discussion we will be covering topics such as:
• What are the things to consider about a hybrid model where there is a mix of working from home and the office?
• What are our employees are thinking and feeling about going back to the office?
• How to maintain morale and culture in this new hybrid model?
• What, from an IT perspective, do I need to consider?
• What new opportunities are going to present themselves going forward? Such as business opportunities, recruitment, productivity improvements etc?
Plus a whole bunch of other questions.
If this sounds like something you want to be involved with then please register below. And as we want it to be as interactive as possible please share your thoughts and questions with the panel.
So, if you, or you know anybody, who would benefit from joining in then please book the event in your diary by registering:
Many thanks and hope to see you on the webinar,
Oliver
Cyber Crime Prevention Seminar Dorset