VoIP Phone Solutions.
Vermont Systems is an independent VoIP Telephone provider to businesses in the Hampshire and Dorset areas. We can assist your organisation in determining your Telecoms needs, no matter what size you are, and can help to both reduce costs and improve quality and productivity. We also offer an unmatched customer support policy so you will never be left without a working system.
Why would you use Vermont Systems for your Telecoms?
We can provide an independent, no obligation, business review of all your communications (office telephone systems and data (broadband etc.)
Our technical support team can provide technical setup and support for your office telephone system
We will provide a dedicated Account Management
We will carry out regular contract reviews to ensure you have the best pricing available to you
We can supply all equipment required
Make more of your telecommunications.
Free Report
"The Ultimate Guide To Choosing
The RIGHT
VoIP
Phone System For
Your Business,
Charity
Or Multi-Location Office"
Not all VoIP systems are created equal! Read this guide to discover
how to avoid making a frustrating, expensive mistake when choosing
a VoIP phone system.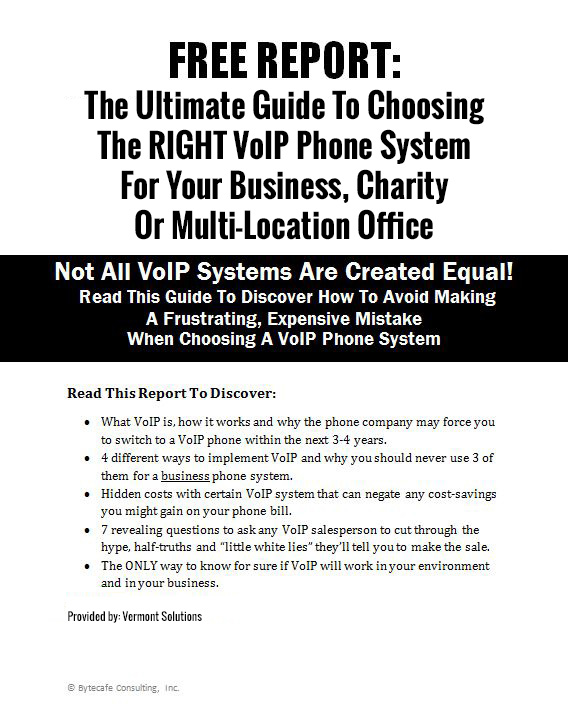 In This Report You'll Discover:
What VoIP is, how it works and why the phone company may force you to switch to a VoIP phone within the next 3-4 years.
4 different ways to implement VoIP and why you should never use 3 of them for a business phone system.
Hidden costs with certain VoIP system that can negate any cost-savings you might gain on your phone bill.
7 revealing questions to ask any VoIP salesperson to cut through the hype, half-truths and "little white lies" they'll tell you to make the sale.
The ONLY way to know for sure if VoIP will work in your environment and in your business.
Fill in the Form
To Gain INSTANT Access To This Report
Important! We hate spam as much (or more!) than you and promise to NEVER rent, share, or abuse your e-mail address and contact information in any way.

"At all stages Vermont has remained in close communication, tackling any problems cheerfully and efficiently.
Running an investment specialist IFA needs complex integration of numerous databases and systems".
Richard Palmer, Senior Planner Murdoch Asset Management

"We've set ourselves ambitious plans for business expansion through 2019 and are confident that Vermont will provide their support and guidance to help us achieve them.
This is a long-term relationship offering long-term benefits all round".
Sarah Kay, Office Manager Turbo Service International