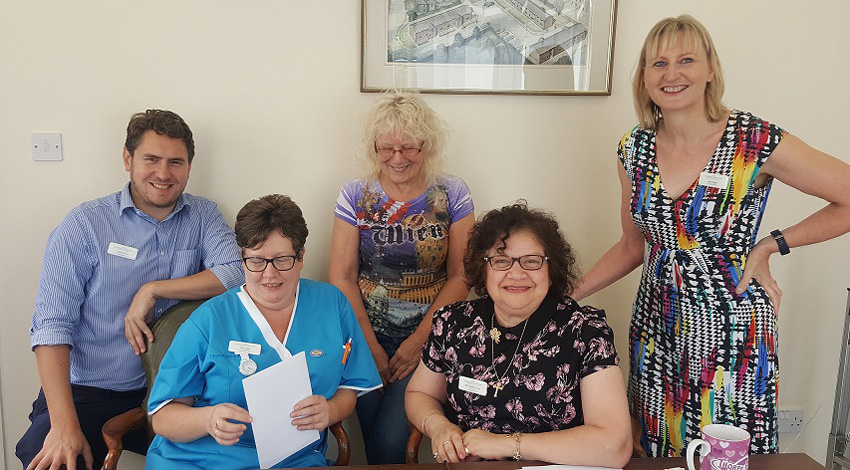 Guest article kindly supplied by Anne Taylor, Chief Executive, Thorngate Churcher Trust – Housing and Social Care
Anne Taylor leads a third sector Hampshire organisation with eighty staff delivering residential social care and housing services. During 2018 she created a values-driven culture, transforming the thinking and approach of colleagues. Here she describes how she did it:
Finding a way to unite a large number of colleagues to the same way of thinking when they work in teams which change according to the rota and work on different shifts can be a challenge.
Our journey to deliver a values driven culture, has been fascinating but crucially has resulted in tangible impacts in staff satisfaction, performance improvement, retention and has influenced our recruitment processes. While this is a short description of what we did, a much longer and more detailed version can be found online at my blog www.anne-taylor.com
The first key ingredient is to generate a set of values that colleagues feel represent them. I did this through workshops and comment sheets displayed on our sites. People used nouns and adjectives to describe how we felt about our services (in our case our residents), qualities we expect in ourselves, and teamwork. I combined these without adding or taking away (all reasonable answers) from the suggestions. The resulting values we came up with as an organisation delivering social care together are:
We seek to improve lives through passionately promoting excellence in support, care and housing.
We will each commit to take responsibility for our role in our teams encouraging, respecting and supporting each other.
We strive to be transparent, approachable, listening to each other and acting with empathy and consistency
We will respect and support everyone as individuals, treating residents and colleagues with dignity and compassion, and behaving professionally whatever our role.
The next stage was to run small group sessions (maximum 6) with all our staff and subsequently with any new joiners. These sessions firstly provided an opportunity for staff to get to know each other (and me) better, especially if they often worked only at nights or weekends.
I provided participants with a postcard with our newly derived values listed on the front, and they added their address on the back. We discussed the values' creation. How people felt about them? Did they agree with them? (Only one person didn't and they have now left our organisation!) What should we do about people who don't live these values at work?
This is where things started to become really interesting. While some people felt that we may want to try to retrain people not living our values, ultimately colleagues were quite clear that they didn't want to work with others who did not share these values. I know how much many of my colleagues care deeply about their work, but I was inspired by strength of feeling about the importance colleagues place on us all sharing these values. This has resulted in us using the values as a focus during recruitment, including them in our employment handbook and talking about them during performance reviews.
For the next part of the session, we moved onto individual responsibility within teams and how each of us can display leadership regardless of our appointed position. I used some theory from the NHS Improvement Agency which I have amended for this training and I call the Leadership Jigsaw. This shows that an individual in a team will change their behaviour (to better adhere to our values in this context) if four elements are present. I talk the participants through the elements to show how they can help others change their behaviour to be more closely aligned with the values culture we are creating.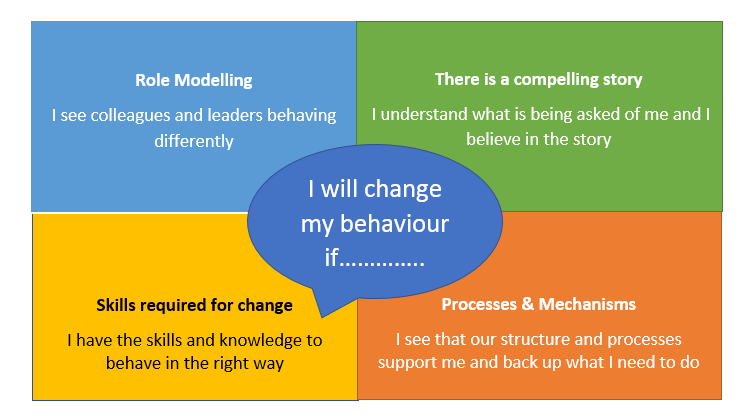 The first one is role modelling; i.e. if three out of four people are doing the right thing then it is likely the fourth will follow a good example,
The second is having a compelling story, i.e. what we are here to do. I relate the story of President Kennedy meeting a cleaner at NASA. When asked what his role was the cleaner told Kennedy, he was "helping to put a man on the moon". The cleaner understood his role in the ultimate mission. In our situation of helping vulnerable adults, this is quite easy for our colleagues because they are all close to our organisation's mission of improving lives and they can see the benefit they make daily.
The third component is skills and training. While it is the organisation's responsibility to make both mandatory and optional training available it is the individual's responsibility to participate effectively and ensure they speak up if they do not have the skills needed or need help in a particular area, for example digital skills.
Finally, the fourth component is processes and mechanisms. This means being open and allowing people to come forward and be listened to when things are not right and avoiding being defensive or dismissive, i.e. whistleblowing. Leaders in organisations must appreciate that if there is not an open culture, accepting and learning from mistakes, the jigsaw will not fit together.
In this way, people understand quite clearly how all these things will work together to change behaviour and deliver everyone working towards a values culture.
In the last part of the session we bring it back to individual responsibility and actions. Referring to a recent independent report on the organisation, such as a regulator's or independent consultant's report, I ask participants to record on a worksheet the three specific things that most upset or were like a body-blow to them when they read the report. What I look for is things people really don't like reading about ourselves and the service. We discuss them and I prompt them gently if the things they have raised are not specific enough. I ask them to then record what they are going to do personally about the specific things they have highlighted. It is important that these actions are specific and not too difficult. I then ask which one they are going to do today or on their next shift?
This personal commitment is then bringing together the individual employee's sign-up to the values, the elements of behaviour change, the specific organisational context, and agreement to take action.
To conclude the session, participants write up their actions on the reverse of the postcard I handed out at the start of the training. They go forth to carry out their actions and to stop them forgetting I post the postcard to them three weeks later! Colleagues love this bit, they often come up to me and tell me they have received the postcard, where they have pinned it up, and so on.
I urge you to start your own values journey, the benefits in cohesion and delivery are even more positive than I had imagined, and you'll get to see the positive attributes of your own staff close up.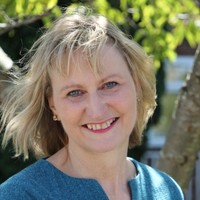 Anne Taylor will be presenting this journey at a Vermont hosted seminar in the spring. To register your interest and to be informed of the date and venue please email:
Kirsty.cartwright@vermont.co.uk
In the meantime you would like to know more visit her blog at www.anne-taylor.com
Anne Taylor FCCA is the Chief Executive of Thorngate Churcher Trust, she is also a director of a social housing development consortium and a Leadership Fellow at St George's House, Windsor Castle.
©Anne Taylor 2019